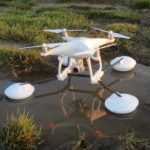 We recently told you about our hardware startup, DroneRafts LLC. Since then, we have had a successful Kickstarter campaign, gone into production with WaterStrider™, and we are current beginning work with distributors and Amazon for wider distribution of the production WaterStrider. We have been asked a lot of questions about both UAS as well as crowdfunding, and we hope to answer some of those questions through posts on this website.
For a quick overview, we wanted to thank Rose-Hulman Institute of Technology for publishing this nice article on the successful campaign and way forward.
If you have any questions about crowdfunding, our work-in-process experience in transitioning a portion of our consulting business to hardware, or are interested in any of our other services, please contact us by clicking here. Stay tuned for more!