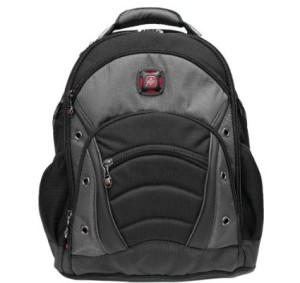 So Adam just ordered this new backpack.
We hope it arrives in time for our AirVenture departure. He travels quite a bit, and has traversed the globe through airports and public transportation, preferring to do so hands free. His previous pack, also by Wenger, lasted about 8 years. It was a workhorse. We love(d) it. Perfect pocket placement, understated styling, and enough structure to stand upright. Obviously Swiss Gear (Wenger) has achieved some brand loyalty with the engineers. The only complaint he had is that 90% of the old pack is still completely useable. The interface between the strap and the top of the pack goes through several layers of various materials, including some plastic piping. Had the manufacturer left a larger seam allowance, the pack would likely have lasted many more years, I believe. Design for failure? Have I mentioned my theory on consumer product design for failure? Oh well, I will cannibalize the hardware off of it and Adam will (hopefully) enjoy his new pack.
See you at AirVenture!
See Adam's new laptop backpack here.