We replaced our dinosaur (11 year old!) Dell laptop last week. After I signed for the box and we opened the package, the first thing I noticed wasn't the number of USB ports or the color of the casing. It wasn't the slim power supply. It was the absolutely elegant packaging solution.
The box was small. I knew the size of the machine we ordered and was a bit surprised at the size of the box. Then I opened it . . . and saw this: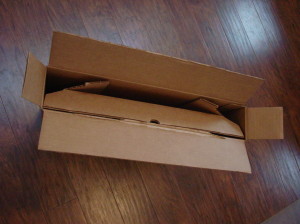 I remember when electronics and appliance boxes were full of styrofoam that required frustrated sighs, shaking the box, a two-man team, and running the vacuum after the device was liberated from its packaging nest. None of that here. But the best part was yet to come. The tidy cardboard insert had this piece of grippy plastic across its top, with the laptop neatly held under it, retained with nothing but friction.
This plastic is reminiscent of those clingers, seasonally used on elementary school classroom windows, or with university logos printed on them. Two small strips of adhesive kept the plastic in place and the short ends were simply folded under to stretch the plastic across the laptop, securely holding it in place. Brilliant!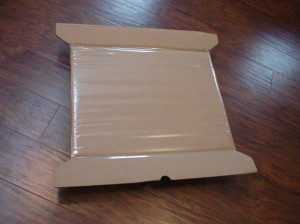 After our normal product trial period here, I will flatten and recycle the cardboard and let the children make window clingers with the plastic.
Thank you, packaging designers, wherever you are. We love simple, affordable, and elegant solutions too.